Lieutenant-Colonel Aurore Tillac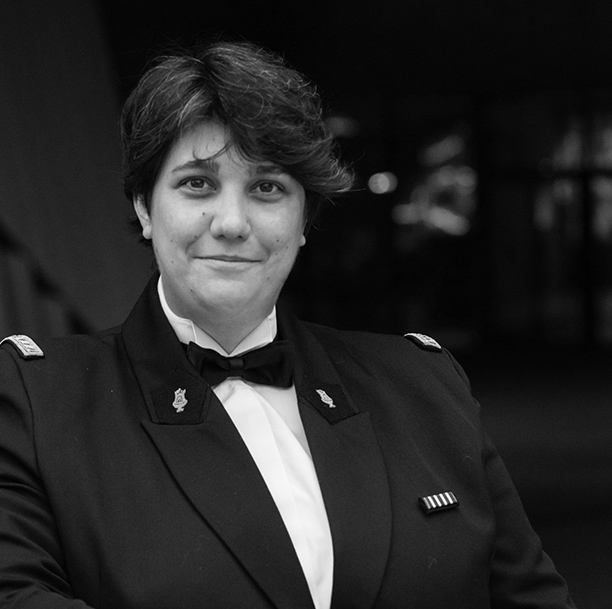 Choir Director
Lieutenant-Colonel Aurore Tillac has been head of the French Army Choir since 2007, after being deputy chief for two years. For more than ten years, she has directed the only professional men's choir in France during both official ceremonies and concerts.
The musical career of Aurore Tillac has been replete with awards from its start: at the age of fifteen, she won the first diatonic accordion prize at the Castelnau-Barbarens festival. She then won first prize for clarinet and chamber music at the National School of Music in Tarbes, before obtaining the prize (unanimously awarded) of Gregorian choir conducting at the C.N.S.M (National Conservatory) in Paris. Soon after, she joined the "Ensemble Dialogos", whose records such as  "Terra Adriaca", "The Vision of Tondal", "Abbo Abbas" and "Dalmatica" have won many awards.
Between 2001 and 2003, Aurore Tillac assisted Patrick Marco in directing the Paris "Maitrise de Paris" Conservatory, after having acquired her CSMP training at the latter.In parallel and until 2006, she also acted as the musical director of "Concentus Vocal", dedicated to ancient and Baroque music, and as choirmaster of the Choir of Paris Universities "Chœur des Universités de Paris" from 2003 to 2007.
In 2007, Aurore Tillac created "La Manufacture Vocale", a mixed vocal ensemble that "tackles" serious, less serious, classical and less classical music; she managed this ensemble until 2018.
Since 2017, she has been Associate Conductor of the opera company "Les Voix Concertantes" (artistic direction Manon Bautian), a permanent lyric company of the "Théâtre des Variétés".
Lieutenant-Colonel Aurore Tillac is a Knight of Arts and Letters.