French Army Choir and French Republican Guard Orchestra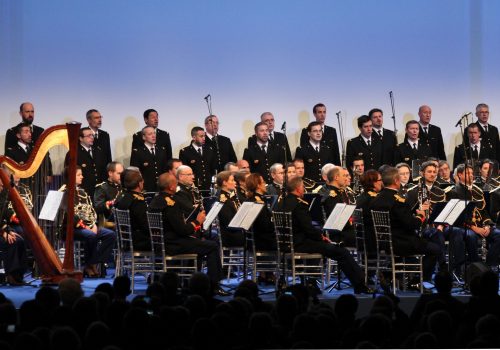 Welcome to the Republican Guard Orchestra, established in 1848.
The conductors are Colonel François Boulanger and his deputy Colonel Sébastien Billard, at the head of the 120 professional musicians they lead. The orchestra has many formations: as a philharmonic orchestra, a symphony orchestra, a string ensemble or, if you prefer more intimate moods, chamber music groups. So many musical formations in the same orchestra is an intriguing proposition and suggests the richness of the Republican Guard Orchestra, one of the reasons it has a unique place among French orchestras.
The musical world of the Republican Guard also includes a world class chorale, the French Army Choir established in 1982.
Some 40 professional singers and piano accompanists make up this unique professional men's choir in France. They sing under the direction of their conductors, Lieutenant-Colonel Aurore Tillac and her assistant Major Émilie Fleury.
The French Army Choir is not just a chorus of male voices; it is the official choir of the French Republic, like its instrumental cousin, the Orchestre de la Garde Républicaine. The Choir performs in official contexts at the request of the State, in numerous annual commemorations in the presence of the President of the Republic. But the choir does not sing exclusively for governmental and military authorities: it goes regularly to meet a wider public everywhere in France. The Choir welcomes the invitations of concert halls, municipalities or charitable associations. These concerts are then an opportunity for the choir to interpret its wide repertoire, ranging from French and foreign military songs to French popular songs from opera and operette.