French Republican Guard clarinet sextet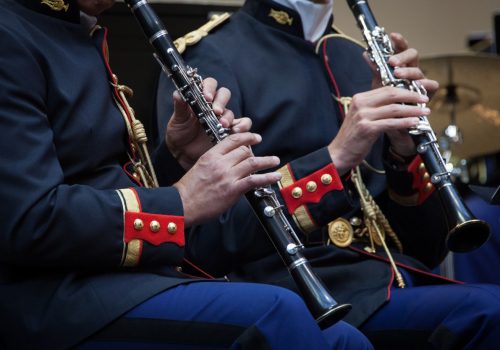 Do you have a preference for more intimate concerts? A concert of one of the chamber music ensembles of the Republican Guard Orchestra will be a delight.
The oldest of these chamber music ensembles is the saxophone quintet of the Republican Guard, created in 1928. The arrival of the strings in the Orchestra in 1947 allowed the creation of a string quartet. Finally, in 2016, the clarinets, in the form of a quartet or sextet, joined the chamber music ensembles of the Orchestra of the Republican Guard.
These different ensembles play a repertoire specific to them, from original pieces composed for this type of ensemble to adaptations of other classical or contemporary works. Tours abroad are not the exclusive preserve of the orchestra or symphony orchestra: the saxophone quintet has already toured in the United States and Japan, and the string quartet has traveled to the United States and Armenia. But to hear their chamber music you do not have to go that far: they perform regularly at the Quartier des Célestins in Paris, headquarters of the Republican Guard, for musical evenings open to all.