French Republican Guard string orchestra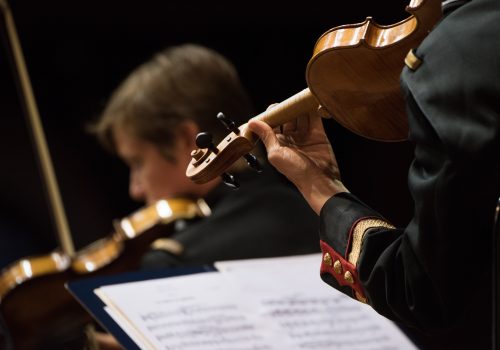 If your preferences run toward violins and double basses, come and enjoy the String Orchestra of the Republican Guard!
The strings made their entry into the orchestra of the Republican Guard in 1947, under the auspices of the President of the Republic Vincent Auriol, who was himself a fan of violins. Since then, the 40 musicians of the string orchestra are much in demand to play during official performances as well as during concerts organized by festivals or musical seasons. The highest authorities of the State regularly call 12 of these musicians to perform at state dinners at the Elysee; you can imagine what an honor is it for the musicians, to have heads of state as an audience! But all audiences are welcome at public concerts of the Republican Guard's string orchestra, especially when it comes to concerts in collaboration with other musicians, as was recently the case with clarinetist Pierre Génisson or the composer and pianist Karol Beffa.